Eurocold are a medium sized transport company with a turnover of just under 6 million per year, supplying the transport needs of customers wishing to transport dry, ambient and frozen goods.

Whilst you may not recognize our name, we have been delivering into Europe and Gibraltar for the last seven years and have built a reputation for quality service at a competitive price and would like to offer our services to you, confident that by dealing directly with us it will reduce your freight costs considerably.

Our fleet is generally under l 8 months old, and in most cases less than 1 year old which gives a degree of reliability so achieving delivery schedules without problem. Satellite tracking is installed in all our vehicles so that at any given moment in time we are able to locate each of our vehicles throughout Europe.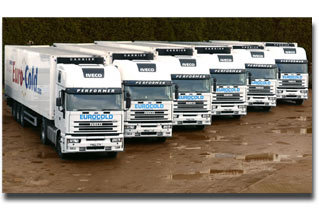 Currently we have contracts with many major Supermarkets and Distributors in the UK, Spain and Glbraltar), carrying 400+ loads for Safeway Supermarkets PLC. We are also the nominated haulage company for Restsso Trading in Gibraltar (our mutual customer). We also are offering groupage and deliveries to Spain and Gibraltar for a number of customers on a regular basis with weekly traffic runs.